Giving plastic parts a new start: Austin Hayes recycles 121 tonnes of quality plastic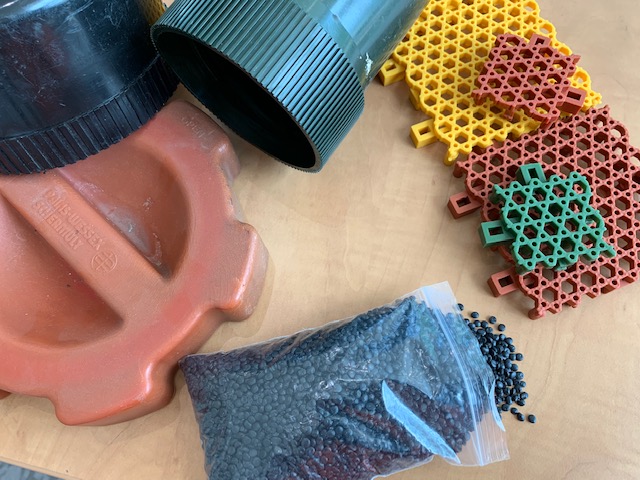 Sustainability has become a key influence in the way we operate at Austin Hayes. From the factory floor to the office, our entire team is dedicated to improving our impact on the planet, ensuring that we function in the most environmentally-friendly way possible.
With all hands on deck, we've recently been able to hit yet another astonishing eco milestone. We've just recycled over 121 tonnes of quality plastic material to be reused, which would otherwise have been destined for landfill. This is a great achievement by the team at Austin Hayes, and we're proud of the positive impact we've been able to make.
The problem with plastic
Plastic is becoming more and more of a global issue. It's versatile, cheap to produce, and has become a vital component in countless products and innovations. The downside is that because plastic is so durable, it never truly breaks down. A discarded plastic bottle can last up to 450 years in a marine environment, until it eventually ends up as microscopic particles. These particles are then eaten by the fish we consume, wash up on the beaches we frequent, and perhaps most shockingly, have been found falling from the sky in the Arctic, a region which is considered to be one of the world's last pristine environments.
The fact that something as pure as snow is now contaminated with plastic particles only serves to highlight the fact that more needs to be done. Single use plastics are still the biggest offenders, and efforts have been made to reduce how readily these are used. But without disposing of plastic properly long term, we'll never truly be able to strike the right balance of profiting from plastic, without sacrificing our planet and well-being in the process.
Turning plastic waste into something wonderful
Salvaging 121 tonnes of plastic surplus would not have been possible without our dedicated and determined team. Over months, they sifted through an immense amount of damaged and obsolete mixed material packaging, ensuring that not one piece of reusable plastic would get sent to landfill. Instead, we've been able to send it to our business partner PLASgran, to be refashioned into new plastic mouldings.
This was no small operation. To put it into perspective – we were able to send eighteen trailers of plastic to PLASgran, whose state-of-the-art facility could granulate and refine this surplus.
Why it matters
We believe that being as sustainable as possible is a corporate responsibility. Since we were first inspired to become more eco-friendly, in pursuing an ISO 14000:2015 certification (which honours companies managing their environmental impact), we've done everything we can to action positive, sustainable change within Austin Hayes. From striking up valuable partnerships with companies that can recycle surplus, to having our impassioned team comb through our materials to ensure that every salvageable piece gets sent to the correct facility, we've made environmentalism a fundamental aspect of how we do business. There's a greener future coming, and we're determined to be a part of it.
We're proud to partner with PLASgran, a leading UK plastic waste recycler. You can learn more about their work in the video below. 
---